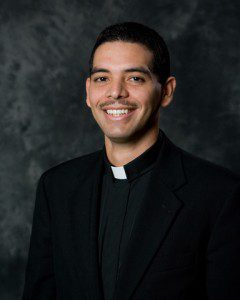 Bishop Parkes will be assigning new priests to St. Mary effective July 1. Fr. Tim Corcoran, who turned 75 last year, is being relieved as Pastor and being granted retirement status. Similarly, Fr. Luis "Chito" Valenciano will be returning home to the Philippines about the same time.
Bishop Parkes is sending Fr. Kyle Smith, who is presently at St. Lawrence Parish, to lead the parish as Parochial Administrator. He is also sending Fr. Dayan Machado, who is presently at Our Lady of the Rosary Parish, as Parochial Vicar to assist Fr. Kyle. Fr. Dayan is bilingual – fluently speaking both English and Spanish – so the new pastoral team will be wonderfully positioned to serve the needs of our parishioners at both the church and at Santa Maria Mission.
While it is always hard to say goodbye, this will be an exciting time to welcome new priests to lead our wonderful parish and parishioners.